Late last year I signed up for a round robin being run by @cedacanthus on Instagram.
I've never participated in a round robin before and I jumped at the chance to tick this off my quilting bucket list.
We had to make our own centre – designing something that we loved and would help the group add to it. We are in groups of 7 quilters, and each of us will add a border of our choosing to 6 centres. Each centre that we receive will mean we add a different border on at each stage – meaning so far I have added a first border and a second border.
My centre, as usual Halloween related –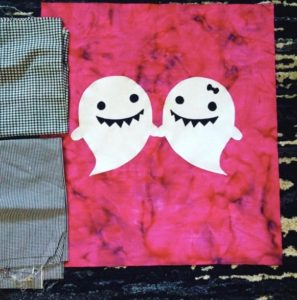 We posted off our centres at the start of the year. We've received the first person's centre and attached the first border, then posted it to the next quilter in the queue. And at the beginning of March we received the second centre which is currently being worked on and is due to be shipped on the 1st of May. We get two months to receive, design, and sew before the next shipping deadline.
This is @red_flossy's hot air balloon centre that I added a polaroid block border and continued her request for the film strip edge –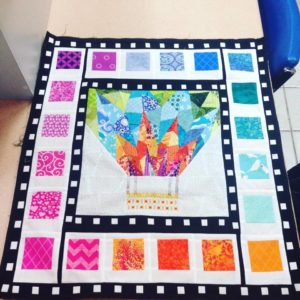 I'm currently working on an appliqué border for the next one. But I'm keeping it under wraps until I'm ready to send. 🙂
This year has brought me some different opportunities and I've taken them because life is just too damned short. Last year reinforced that lesson and this year I'm making changes. I'll be sharing these exciting things with you this year, on this blog, now that I feel like writing again.
Marni x