October is by far my favourite month of the year.
It not only has my favourite holiday Halloween but is also the birthday of the shop and this year for the shop's third birthday I'll be doing all sorts of wonderful things to celebrate.
Firstly there will be the ongoing competition.
To enter all you need to do is place a mail order (or orders) during the month of October. For every $5 you spend you will receive a numbered ticket. At the end of the month everyone's numbers will go in my lucky witches hat and I will draw out a winner.
The prize: a $50 gift voucher to spend on fabrics (or it could go towards quilting costs if you prefer), a blue size 16 singlet top that has a screen printed black bat on it that I made in my screen printing class in September and some of my quilt patterns.
I will also be doing an overhaul on the store section of the website – this is more from an inventory standpoint so that all future sales are easier to track. There will be a heap of quilts listed on my hand-made store, all ready to be posted and perfect for Christmas gifts.
We've also passed 1000 likes of FB and 100 followers on IG so I'l be doing a little something to celebrate those.
Also if you would like to join in my fabric swap please drop me an email – frankensteinsfabrics@hotmail.com. The cut off date for sign ups was today but life go out of hand so I'm extending it for October.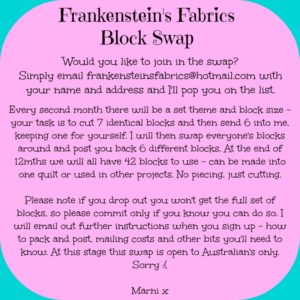 There will be more details on the competition as well as a picture or two of the singlet top and the patterns etc so stay tuned!
Marni x