I finally finished my Classic Horror Monster cross-stitch!!
I'm really bad at finishing cross-stitches so this is a personal best for me…all in the one year!
Top Row: The Mummy, Wolfman, Dracula
Bottom Row: Frankenstein's Monster, The Bride of Frankenstein, The Creature from the Black Lagoon, The Invisible Man.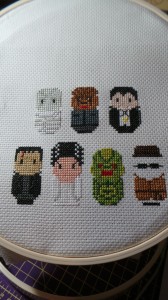 I've also been working on some English Paper Piecing. I'm doing some clamshells at the moment and also working on a video for hexagons.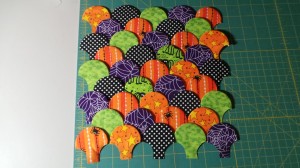 This quilt – that this first clamshell block will go into – will take me a while, as I am determined to do it by hand as you are meant to and I'm a very slow hand sewer. If you'd like to follow along just bookmark this post, but I'm warning you now that it will be ages in between updates, I'm that slow a hand sewer.
I'll be using up all of my halloween scraps as I love the vibrant colours and I hate waste. And a girl can never have too many halloween quilts. 🙂
As of tomorrow the shop move goes into full swing so there might not be a post for a little while. Excited to have this all over with as I hate packing.
I have several sales happening as well at the moment – you'll need to check out my Facebook page and Hand-made store for all the goodies.
As always if you have any questions… please ask.
Marni x