I made this quilt (currently named 'Matchsticks') about 6 months ago. It was an experiment in staggering my measurements, the piecing was all vertical and it was fairly straightforward to graph it out.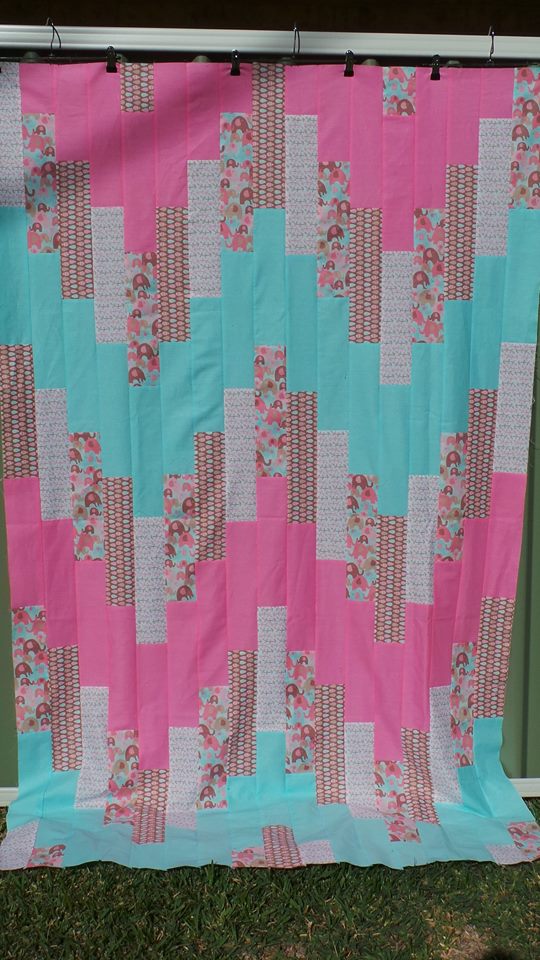 The thing that's driving me batty with this quilt is what design to quilt it with…
Do I go full custom? Geometric? Swirls? Find a pantograph that has elephants on it?
The backing is a chocolate brown with baby pink spot and the binding is a multi-coloured stripe (pink, blue, brown and white).
If you have any thoughts on what I might quilt on it please pop them in the comments below.
Do you want to win?
If you would like the chance to win a $20 gift voucher to use in the web-store please comment below with your suggestion for a name for this quilt. I will choose the winner at 5pm AEDST on the 22nd of February 2015.
Rules:
Gift voucher will be valid from 6 months from the date of winner announcement. This prize is a one off and the voucher cannot be redeemed for cash. This voucher cannot be used towards machine quilting costs (if you need a machine quilting voucher they are available for purchase). Your information, submitted for this competition will not be used for any other purpose except this competition and will not be passed onto any third parties.
To ensure that you are able to be contacted in the case of you winning please make sure you comment with a profile/avatar that has an email address.
If in case of the winner not responding within 24hours of the announcement a second winner shall be chosen.