A few weeks ago Caroline of Nightingale Quilts put a call out for pattern testers.
Now those of you who know my backstory know that I've worked for some of the craft magazines and that part of what I did was work on instructions – so naturally I jumped at the chance!
Caroline has designed a quilt that was quick, efficient and stunning. As you know I'm not one to work to someone else's pattern as I'm usually designing my own. It is rare that I purchase a pattern or follow along with someone else's creative process but something about this pattern drew me in.
I made my version of Cushion Cut using a selection of Halloween prints from my stash. Plus a few newer additions. 🙂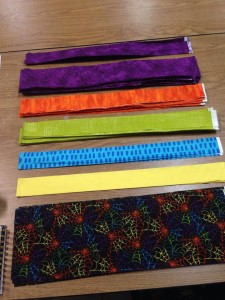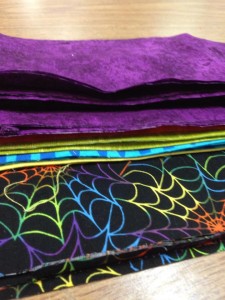 As I finished cutting I decided to not use the yellow.
I pieced some sections while I was at the shop and packed it all in a tub ready to go when I got home.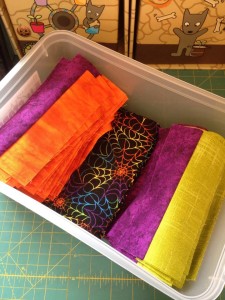 And then I set myself up for a sewing session!
I am a fast sewer and I also have no obligations (read: no kids) so for me it was a case of sit and sew until it was done. I timed myself to see roughly how long it would take (curious) and it was just over 15 hours to cut and piece. Quilting took me about 4 days (not solidly working on it, in and around other things) and binding took me an hour.
This quilt is a fabulous all rounder project – good for those just starting out, a quick one for those with more experience and one that works in all fabric styles for the perfect gift.
Mine is currently on my bed as it will be the quilt that I use in this warmer weather and the orange matches my bedroom curtains perfectly!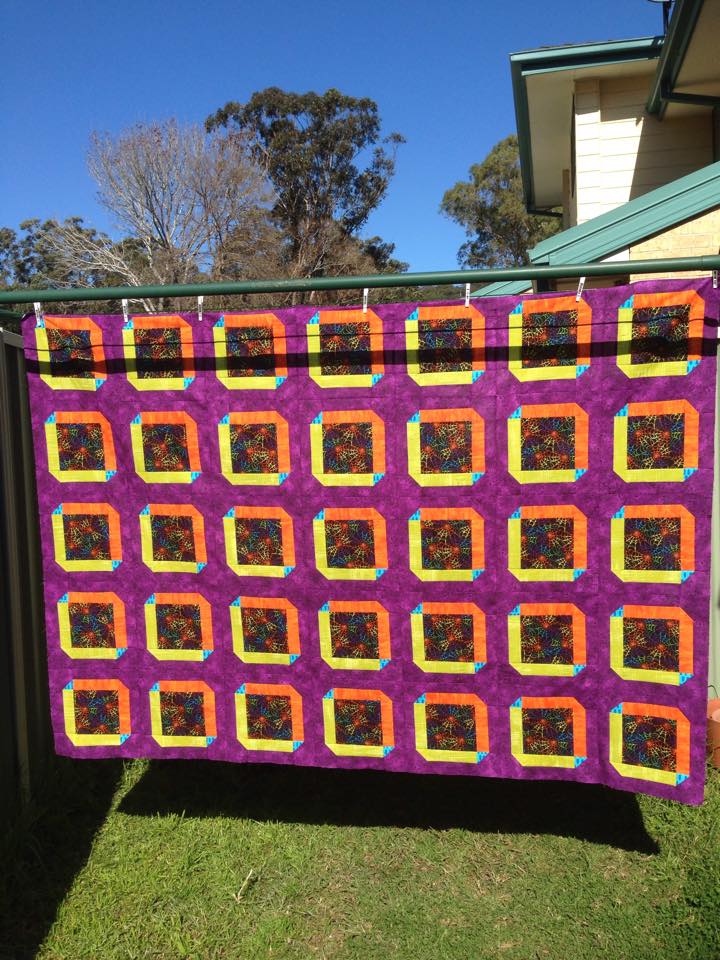 I decided that I would quilt mine in an allover spiderweb pantograph from Dave Hudson.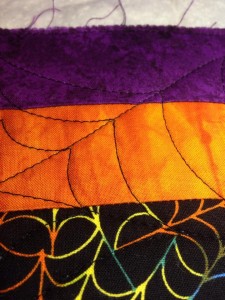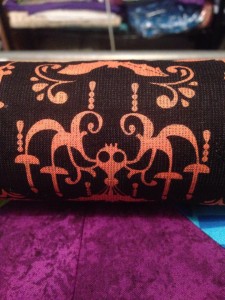 My backing fabric is called Scary Chandelier from Michael Miller. I have some in white for sale if anyone is interested (PM, email or ring for details).
I loved making this quilt. So much that I put aside pretty much everything else I was working on to make it. I felt rejuvenated after making it – taking the time out from my usual schedule to pattern test for Caroline helped me re-focus on my own work.
*drumroll*
My finished version of Cushion Cut!
So what's next?
Well…. Caroline has graciously given all the pattern testers a FREE PDF copy of her pattern to give away to one of our followers. To enter simply head over to my IG and like the picture, tag a friend and I will draw one winner at random tomorrow evening (30th August AEST). If you don't have IG please comment below on this blog post.
And to sweeten the deal – anyone who makes this quilt (either pattern winners or those who buy the pattern from Caroline's Craftsy store) and books in to have their quilt top machine quilted by me will receive a 10% discount on their quilting costs (does not include backing, wadding, thread or postage). This is open to Australian residents only as the postage from overseas will not be worth the hassle. 🙁
Bookings must be made and paid between 1st December 2015 and 31st May 2016. You can book during that time but bookings can be set for later on in 2016 if you so choose. Quilts will be quilted in line with the requirements set out here on my machine quilting page. Any questions please do not hesitate to ask. 🙂
BEST PART!
10% of every cushion cut quilt top sent to me for machine quilting will be donated to Caroline to help her care for her rescue flying foxes and bats. You can read more about what she does here.
I'll be back with a list of the other testers so you can go and check out their designs!
Happy Quilting,
Marni x