If you've been following along with the Scrap Busting Solution posts you'll know the focus has been on your scraps, how to sort and what to make but that has all been geared towards bulk – using it in a large quilt. But what about all those cute smaller projects you could be doing?
Placemats, table runners, a mug cosy, coasters, makeup bags and pencil cases… you can make all of these using scraps too and they are especially helpful if you've sorted your scraps into groups that don't have lots of matching friends.
I made my parents a quilt at the beginning of 2014 and the scraps left over from that I kept separate from the rest of my scraps because I wanted to make a matching set of pillowcases and a couple of placemats for my parents to use on their bedside tables. When those are done the leftovers from that will go into the main bulk of scraps for use in other projects.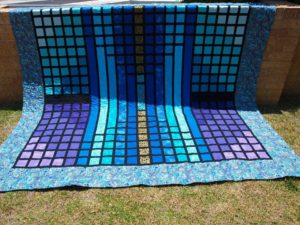 If you'd like to see the quick quilt-as-you-go tutorial for the mats I made Mum and Dad click here.
There are plenty of small projects you can make to use up scraps – Pinterest is an excellent source for this but please be careful of copyright (see previous posts for how to deal with copyright).
http://www.pinterest.com/pin/23010648070774558/
http://www.pinterest.com/pin/356065914263253875/
http://www.pinterest.com/pin/392305817514528106/
Next blog post will be about how I'll go about starting to sort through my stash and will be the final blog in the scrap busting solutions series. I'd love to see photos of what you all get up to and maybe if you get stuck with something send in a picture of that too so we can try and help.
I'd love for the blog to become a place where we can share and mingle, where we can help each other and be a virtual crafting community.
Hopefully I'll get to start this week but if not it will be up early November.
Happy scrapping!
Marni x