A little while ago I posted this blog here about the charity quilting that I do for BlanketLovez. This week I'll be chatting to Kristyn from Melon Patch Quilts about the charity work she does for a variety of worthwhile causes.
How did you get into quilting for charity?
I first got into charity quilting when I joined my local quilt guild and started my long-arm quilting business. The guild needed their charity quilts finished and I wanted to practice some designs and patterns, so it benefitted both of us.
How long have you been doing it for?
Since I started my business 14 years ago.
What charity/charities do you quilt for?
This is only a brief list of the organizations I have quilted for: Quilts of Valour, Make a Wish, various local churches, local sports teams, local Home and School organizations, local Quilt Guilds, May Court, Habitat for Humanity, Hutton House, The Quilt-A Breast Cancer Support Project.
Do you make quilt tops, complete quilts or just long-arm for them?
I do the long-arm quilting for the charity quilts, either an individual or an organization pieces the quilt top and then finishes the binding once I give it back to them.
How many quilts would you do in a year?  
I used to limit how many charity quilts I quilted, as I was so busy with everything else in my life (as well as quilting) but now I quilt all of the quilts that come to me. I want to see as many organisations/charities/people benefit from having a completed quilt.
If you long-arm – do you assess a charity quilt in a different way to a customer's quilt, or even one of your own, for quilting?
Usually the quilts that come to me as a charity quilt are quite scrappy and an overall quilting pattern looks great on them. I have only custom quilted a few charity quilts; the majority were quilted with an overall pattern.
Are you asked to do certain quilting designs or given free reign?
If there is a particular theme to the quilt top, then I try to match that theme – children's quilts get more of a youthful design; floral fabrics may get a flower design etc. I quilt for Quilts of Valour which gives quilts to injured Canadian soldiers and quite often fabrics within the quilt top have a Canadian maple leaf, so I try to use a maple leaf quilting pattern or echo around the leaf on the fabric, just to be a little patriotic.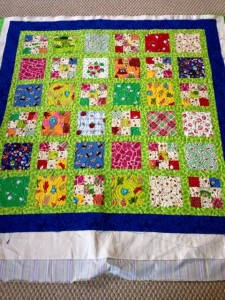 What do you enjoy most about quilting for charity?
I have lots of things I enjoy most. That it helps the organisation complete more quilts that they can donate. That the organisation can raise money if it is a fundraising quilt. With our London MQG Outreach programme, I enjoy helping the students complete their first quilts they have sewn. Seeing these students each week, and what they have accomplished makes my heart swell! They should be so proud of themselves. Within 1 ½ years the amount of quilts they have made is incredible. I also love that on my two trips to teach sewing and quilting, we were teaching women, so they can sew for a business and make money to support their families. We gave them a skill that will last them a lifetime.
How would you encourage others to start?
Probably the easiest way to start quilting for charity is to ask at your local quilt guild, as most of them have an outreach program. I am sure they would be overjoyed to have help!
What's your 'process' for doing charity quilts and does it differ from your 
regular quilting jobs? Eg. Writing up a docket with quilt's info, deadlines, thread choices etc.
The only way 'processing' charity quilts is different for me is that when I quilt for my customers; we discuss in length what pattern, thread colour etc. they would like. For the most part, when I quilt a charity quilt I am the one who decides on the design, thread etc. A lot of times I just pick up the quilts from guild one month and drop them off the next – and the way they are quilted is left up to me. I still make a work order for my files, so I can keep track of things.
To read about Kristyn's adventure's overseas to train and teach quilting:
Humanitarian trip to South Africa to teach Long Arm quilting:
http://melonpatchquilts.com/?page_id=99
We sponsored Lungile to come to Canada for more training:
http://melonpatchquilts.com/?page_id=147
Humanitarian trip to Nicaragua to teach them to quilt:
http://melonpatchquilts.com/?page_id=101
Most of the organizations I quilt for don't have websites related specifically to charity quilting. Here is a link to our London MQG page specifically on our Outreach Learn to Quilt classes.
http://www.londonmodernquiltguildcanada.com/home/category/outreach
To follow along with Kristyn's quilting you can find her here:
A big thank you to Kristyn for taking the time to speak with me. 🙂