Good evening all!
I have been well and truly incommunicado with this little blog of mine for almost 6 weeks! Things have been rolling along with classes and all sorts of other exciting things (including general life stuff) that I haven't been back here. But now I am back into the swing of things!
We've spoken in the past of charity quilting and this post I'd like to introduce Anita from Daydreams of Quilts.
How did you get into quilting for charity?
I knew about Quilts of Valour for years but I didn't feel I had time to sew for them with babies in the house. My husband is a Canadian soldier so I know quite a few soldiers and their wives. I have probably known more soldiers with Post Traumatic Stress Disorder than without. After hearing from some of the wives what their husband's were going through I wanted to help but I didn't know what I could do. Then it occurred to me that I could sew quilts. Quilts are a source of comfort, warmth, security and they can be healing.
How long have you been doing it for?
I sewed my first Quilt of Valour in 2013.
What charity/charities do you quilt for?
I have sewn quilts for Quilts of Valour Canada and my local Military Family Resource Centre (MFRC). (Raffle quilt.)
Do you make quilt tops, complete quilts or just long-arm for them?
I make complete quilts. There are some who just make tops and some who long arm them. I make them from start to finish. I quilt them on my Juki. My Juki was left to me by a friend who died of breast cancer. In her last letter to me she asked that I consider making some Quilts of Valour with the machine so of course that's what I did.
How many quilts would you do in a year?
Last year (2014) I did three quilts; two for Quilts of Valour and one for the MFRC. In 2013 I sewed one. Now I have a new baby so I don't think I'll get one done this year.
If you long-arm – do you assess a charity quilt in a different way to a customer's quilt, or even one of your own, for quilting?
I do not long arm (but I would love to!)
Are you asked to do certain quilting designs or given free reign?
We are given free reign on design but I like to sew the Quilts of Valour in a Canadian theme. There are guidelines on the Quilts of Valour website. www.quiltsofvalour.ca
What do you enjoy most about quilting for charity?
I enjoy feeling that I could share my talents to help someone feel better in their time of need. The reaction from the recipients and their families is also very special. It usually involves tears and a lump in the throat on both sides, mine and theirs.
How would you encourage others to start?
Check if your chosen charity has a website and if they have guidelines to follow. Quilts of Valour Canada is specific to quilting and they do have guidelines on their site. If you are wanting to sew for a charity that is not specific to quilting contact them and ask who you should speak to. Often there is a volunteer coordinator or a fundraising coordinator that you can speak to.
I am an "insider" with the military so I know the people who are in need of a quilt. Most people would sew a quilt and send it to Quilts of Valour Canada. I sew specifically for a soldier that I know and send it to him. I then send photos of the quilts to Quilts of Valour Canada for their records. I do not reveal the names of the people I send to (Post Traumatic Stress Disorder is often a very private struggle) but I do say where they are located. I always make a label that says "Quilt of Valour" Made for: (military rank)so and so Made by: Anita LaHay and the year and place where it was made. I find it very helpful to know the person I am sewing for . It helps me to be inspired and come up with ideas suited to that person. Knowing what they are going through also helps me to push through the frustrations that sometimes come up when making a quilt that is bigger than a lap quilt. All my quilts are sewn with Quilter's cotton, cotton batting and high quality cotton thread.
To follow along with Anita's quilting you can find her here: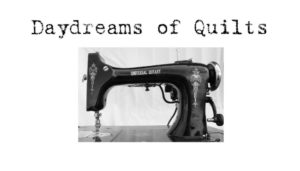 A big thank you to Anita for taking the time to speak with me. 🙂