Hello all!
Welcome to round two of the #kittenmqs2016.
Round one was a huge success without too much chasing of parcels and requiring angels to step in for flakers so I'm hosting round two but with a few changes.
Firstly there will only be 30 swappers in this round. Each applicant will be checked thoroughly against the black list. We will also be in two groups – Vlad's Villains and Amity's Angels
So let's get down to the nitty gritty!
To apply you will need to come back here or my IG on the 10th of January and click on the link provided to fill in the details. I am opening up the signups at 12pm my time – NSW AEDST
Once you have registered your application, I and co-host Fiona from @bendigolioness will sort through, check the blacklist and allocate partners and groups.
This swap is open to Australians ONLY – this is due to the mammoth task of chasing international parcels and the extensive shipping times. I will be running another kitten swap either later on this year or in 2017, and it will be open to ALL.  I apologise profusely to all international friends who want to join in but its just not possible now due to so many variables.
Your mission: You have just over 3 months to create a mini quilt to send to your secret partner. The theme is Cats and Kittens. Mini quilts are generally larger than 16in and no more than 24in but please use your judgement. You are also required to make one smaller item – pincushion, zip pouch, basket etc Extras are encouraged, but not compulsory.
Swap Info: Signups open on the 10th of January and close on the 14th or when signups fill up. Swappers will receive an email with their partner info on the 15th (and 16th if it takes us a little while to get through them). You then have from the moment you receive your partner's info until the 20th of April to create a parcel to their liking.
Swap tip 1: Read your partner's info carefully. VERY carefully – we will be asking about allergies and this is important.
Swap tip 2: Post a mosaic with styles of quilts you like, cats you love and cat themed things. Everyone MUST post a mosaic to help guide your partner's designing. Mosaics need to be posted on IG by the 20th of January.
Swap tip 3: We will be checking in – dates TBA – progress shots will be necessary. Failure to comply will result in you being removed from the swap and your partner reallocated to those on the waiting list.
Waiting List: Those of you who don't make the final 30 will be kept on a list in case of flakers. You can choose to step in if we get in touch with you or say no. If you say no we just move onto the next person on the list. No problem.
If anyone has any questions please post in the comments below, DM on IG or email frankensteinsfabrics@hotmail.com
Happy quilting!
Marni x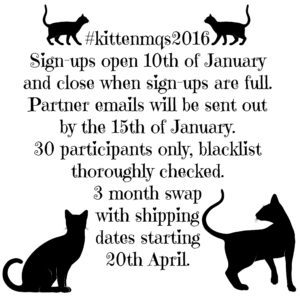 As we waved goodbye to 2015 last night, like all new years celebrations before it, many of us turned introspective. Minds turning towards the potential of the new year, whether it be personal or for business.
This year things are changing here at FF HQ. In fact they started changing a little while ago but the big jump into the new things is happening NOW.
Firstly – many of you know I am teaching. You might have been to a class or spoken with me about coming to one when you're ready. This year is chock-a-block FULL of classes. Click here to sign up for class news. I'm running basic blocks for those who want to get started, project classes where we tackle specific quilts or designs, colour theory for those who are struggling with choosing fabrics and one-on-one classes for those who are determined to get to the bottom of the UFO box.
I am also in the process of designing a new range of quilts and unlike many of my previous designs these will not be headed to the magazines. These will only be able to be purchased through my online store. I'm returning to my designing and writing roots this year because that's what makes me happy.
This year Dawn Lewis from DawnLewisImagery and I will be utilising a new video style platform in order to bring tutorials and unprecedented access to us in an interactive online session. This will enable you to sit in on a Skype-style video call and talk to us live online and with other customers. If you don't want to be 'seen' on the video call then you are also able to jump in the question section and ask us anything you like. All you need to get started is a Twitter account! I have a session scheduled on the 20th of January at 10:30am if you'd like to join us  and see what it's like. For those who aren't quite ready for it you can watch online but you won't be able to ask questions or join in live.
I'm also working on a batch of videos – reworking basic skills and techniques and getting a good bank of videos we can all refer back too whenever we need a refresher or if you want to encourage a friend to join in on this hobby. If there's something specific you'd like help with please let me know.
I am still contributing to the magazines this year as well – you will continue to see my projects in Handmade and Patchwork & Stitching magazines as well as a few other projects elsewhere, that you'll see later on in the year.
I'm re-working the shopping cart on this site as I am no longer selling fabrics online, most of the products will be digital and instant download (no shipping!!) as well as copies of Mollie Makes and hard copies of vouchers if people need them sent out.
Machine quilting bookings are filling up. January is full, February – April have some spaces available. Please book ASAP to ensure you get the slot needed for your quilt. I will be introducing a loyalty card system for machine quilting (retrospectively adding quilt jobs), with discounts and incentives for customers.
Currently though I'm having a bit of downtime as January is full of some crazy things that are happening. My birthday, a few health things I need to take care of and my cat requires some surgery so I will be around but if you  miss me I'll get back to you all when I can. I am working at The Gosford Sewing Machine Centre – usually Tuesdays, Fridays and Saturdays but if you need to see me specifically please give me a call.
I hope everyone has had a lovely festive season and is now ready for bigger and brighter things in 2016. I also hope that you join me this year and continue to support Frankenstein's Fabrics and the new direction that we are headed in.
Happy Quilting!
Marni x