I have been a busy little sew and sew today.
Stitching the quilt for the kits that are coming. Sneak peek below.
Isobel's quilt is finished.
I've been cutting out a quilt for another customer order.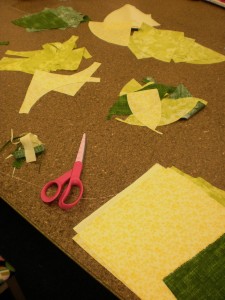 I've also been making a … strange cushion. It was a request for electric orange and gold. So I've gone a little art deco for this one. It's not quite ready to be seen so I won't put any photos up just yet. 🙂
I am also in the process of making a single bed quilt for a little girl. It is a fresh and bright quilt with owls and little umbrellas. Pictures to come.
The shop is picking up quite nicely. I am talking to more teachers to get different types of classes up and running so keep an eye on the Classes tab for updates. If anyone is looking for one-on-one classes please don't hesitate to ask. I am happy to teach you in this way if it makes you more comfortable. Classes are available for children as well (all students must be 15 years or older, no exceptions).
If anyone is interested in some quick jewellery making lessons – I am taking names and numbers. If there are any other types of classes that you are interested in please let me know – I have 'interest' forms for classes – scrapbooking, embroidery, basic sewing, dressmaking etc
Anyways,
Am off to do more paperwork!
Marni