If you are anything like me you have scraps tucked into every storage box, bag and tub in your craft room (or tucked away from hubby in secret cupboards) and you dread the thought of dealing with the sheer quantity of it all BUT you cannot bear the thought of throwing it away either.
Short of just bagging the whole lot up without looking at it and dropping it off to your nearest charity (Salvos, Vinnies or if you would like to help Angel Gowns) there's not much you can do unless you want to spend forever ironing, cutting and piecing scrap quilts, which as much as I love scrap quilts I would prefer to be making things I purposely designed.
I was lying in bed the other night at about 1am, still working online, looking for inspiration, researching and tweaking website when I had an idea. It's probably not the first time this idea has been had but it will work for my plans and so I'm sharing it with you so that you can find out if it works for you.
I have decided that every time I piece a project from now on I will cut up what's left into these 2in Drunkard's Path shapes. I have always loved DP blocks from the moment I first saw one.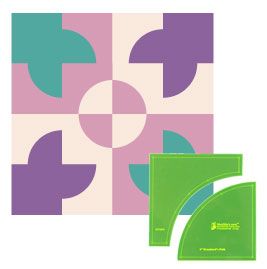 So by the end of 2015 I should have a terrific assortment of tiny blocks ready for my next scrap quilt. I will piece as I go so that the task is not overwhelming and so that I can keep track of how many blocks I have.
If you would like to join in with me on the mini DP block progress you can order your 2in templates from me here.
Of course if you aren't a fan of the DP blocks you could do something else such as hexagons or clamshells if you love hand sewing. You could even cut small squares!
Stay tuned for more stash busting solutions!!