So over the past couple of weeks besides unpacking and working out the new system at FF HQ I've also been working on something for next year.
Two of my friends and I have start The Fifty-Five Fox Fiasco. It's a collaboration project for 2014 with foxes being the main theme. We haven't released all the details yet but if you would like to stay in the loop please follow us on our Facebook page.
The girls and I were inspired by a random conversation we had and a mutual love for all things crafty. It will be an exciting 12 months and I can't wait to get started.
In other news my christmas cockatoo project is on the front cover of the newest issue of Patchwork & Stitching magazine.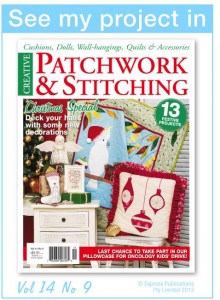 I also had the fortune to be involved in the Fashion Week Central Coast. I submitted one of my quilts for their gala night auction. The quilt sold on the night and some of the funds from its sale will go to the RSPCA – my chosen charity. 🙂
I'm having a small sale over on my Facebook page. All the fabrics in the album are only $10 per metre. Heaps of bargains to be had and the sale will end on Tuesday the 1st of October.
I'm heading to Sydney tomorrow to catch up with friends and then I plan one sewing for the rest of the weekend and Monday when I'm home looking after Dad. I am making pillowcases for Patchwork & Stitching magazines Pillowcase for Oncology drive. I have a big batch of really awesome Dr Seuss fabrics that were donated to the magazine and Melinda (assistant editor) sent out these fabrics for us to whip up pillowcases.
I'm also playing around with some more magazine commissions and a few personal projects – pics to come.
With so little time before the silly season I'm working hard now so that I can have time off this year. We cancelled Christmas last year because none of us really felt like it seeing as we'd just gotten Dad home and things were still settling down. I think Mum wants to do something special this year so I'm making sure that we have at least a few days together, relaxing and enjoying life.
Enjoy your weekend!
Marni x