I know, I know most women wear half a dozen hats at any given time. But in my life my hats are only my work hats – I don't count my 'home' hats. And there's a heap of hats that I won't be wearing for many years and some I don't think I will ever wear. 🙂
So back to the hats – I wear a shop hat and a magazine editor hat. Today is the last day that I am 'in design' for the issue that will be on sale in May. We run about 3 months ahead with magazines. On my days off and at night I work on the magazine. So by day I am Marni, shop owner at Frankenstein's Fabrics and by night I am Marni, Editor for EMG's beading series. It could almost be a double life except for the fact that my lives overlap so much that it really is just one.
For those of you out there in Blogland who do a bit of jewellery making on the side, this is what I do –
I do all the paperwork 'behind the scenes' and a graphic designer does all the fancy computer stuff. We have stylists and photographers who do all the images. I work with a talented group of people. Each issue has a different title in the series.
So after today it's back to the shop and more sewing.
Then in about a week's time I'll have to check the colour proofs, make sure everything is correct and then it gets sent off to be printed.
Last night the auction hosted by the Handmade Craft Market closed. The bidders were generous, the items were gorgeous and now all have new homes. We raised $600 towards Walk for Zoe, so that Brodie can complete her aim of participating in the London Marathon.
Bec picked up her custom order on Saturday.
This is how it started.
One cartoon character and some fabric….
Then …
Didn't take any step shots of piecing so we then skip to ….
Close up of the stippling…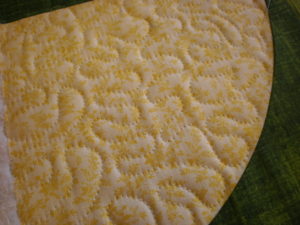 And finally the front…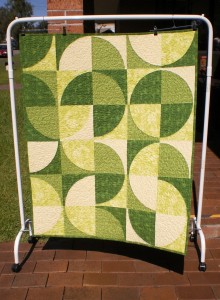 and the back…
Am now down to the last order for a baby quilt. So that's on the cutting mat this week.
If anyone would like to order a custom quilt please email me frankensteinsfabrics@hotmail.com, come and see me in store or ring (02) 4325 2638.
Marni