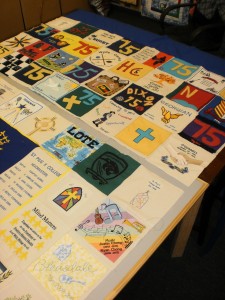 So I've been stitching up a storm with the St Pius X quilt. At this stage it is in 4 sections. Top, middle, bottom and borders. I am slowly piecing the sections together to make sure every blocks points match. Hence why I spent two days trimming up the blocks to make them all the same size.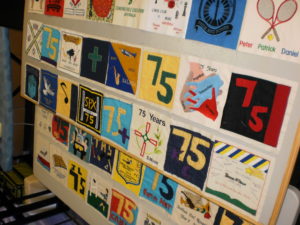 Due to the number of blocks there will be some in the border – maths dictates in this case. I've kept everything balanced as best I can. Colours were the most important thing to balance as when you look at a quilt your eyes move to track certain colours and shapes. So when placing the blocks I made sure that the colours were balanced in the most soothing way for everyone's eyes as this quilt will be on display for many years to come. 🙂
I've actually never made a quilt quite this large (I've spread it out over the classroom table 6ft x 9ft and then also had to put up one of my market trestle tables!) so it's a bit of a learning curve for me in terms of size.
The quilt will be all together by (hopefully tomorrow afternoon) but more likely early next week and on the long arm ASAP. I lost some time today due to a headache and a longer visit with dad at the hospital.
More progress notes to come.
Off to bed now. 🙂
Marni